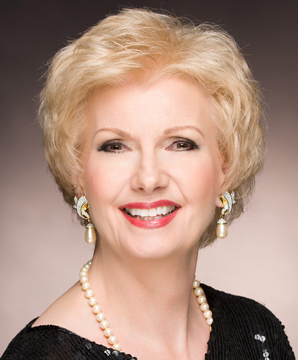 From working artists to industry icons, Dianna Ruggiero consistently receives high praise for her skills and talents as both singer and voice/performance teacher.
---
"It has been my pleasure to know and observe the teachings of Dianna Ruggiero for over fourteen years. I have taught people from her studio who she has sent to the New England Conservatory of Music and to San Francisco Conservatory of Music to acquire their various degrees, and seen her students in performance throughout the country. Each one sings with a solid, healthy, grounded, yet free technique and all sing with PASSION! Dianna has a clear understanding of the physicological elements of singing and she combines that with her keen understanding of the organic side of what truly makes a performer. Dianna's own singing is a shining example of what she teaches and she is thrilling to hear.

In my opinion, Dianna Ruggiero is the essence of a true Master Teacher of Voice and would make an outstanding addition to any faculty."
– Patricia Craig
Metropolitan Opera
San Francisco Conservatory of
Music, Professor of Voice
New England Conservatory of
Music, Professor of Voice
"Dianna Ruggiero is a fantastic voice teacher, and by far the best. I came to study with Dianna upon graduating from my Masters of Music program at SDSU in 2007. Among Dianna's numerous strengths, I have benefited most from her consistent and 'open-minded' style of teaching. She teaches a legitimate and sound technique for singing that can be successfully applied to all genres of music. I can bring ANY piece of music to a lesson whether classical, musical theatre, jazz, rock or standard and receive valuable coaching to improve my performance and sound quality. I frequently recommend her as a voice teacher to actors of all levels. I have also recommended her to colleagues looking to improve their skills in speech, auditioning and those overcoming vocal problems. Dianna's approach is not only aggressive in helping her students grow as artists, but also extremely encouraging. She takes a unique interest in the advancement of her student's careers. I highly recommend her to anyone interested in improving their skills as a vocal artist."
– Shauna Hart Ostrom
Singer (AGMA). Actress (AEA)
Communications Director –
Actors Alliance of San Diego
"Dianna Ruggiero is a fine vocal artist who was taught by world class vocal teachers who gave her the skills to conduct a successful international singing career. San Diego is fortunate to have a teacher with such a wide experience on the stages of opera and music theatre all over the world. She is a teacher of the craft of singing with a great knowledge of the full range of vocal style from opera to pop. Her students have gone on to have singing careers with steady employment. She is especially good with young voices who are serious about learning to sing. I study with her and have learned much from her. Her knowledge and experience are exceptional and she shares all of that with her studio. She has high standards and a great deal of laughter, and joy in all that she does. I send her students when I know they are serious about what we do as performers."
– J. Sherwood Montgomery
Artistic Director,
Lyric Opera San Diego
"Dramatic mezzo-soprano and voice teacher, Dianna Ruggiero is a true gift to the San Diego voice community. Her vast experience performing in the great theatres of the world, including the Metropolitan Opera, make her a fount of practical and inspirational knowledge about the art of the singing actor in opera as well as an expert on healthy vocal technique. Many of her students have had successful careers onstage and are currently singing in opera theatres throughout the world, on Broadway and locally on the stage of Lyric Opera San Diego, the San Diego Opera Chorus and at many other theatres in the local area. Her tutelage under the master teaching of such great singers as Margaret Harshaw and Giulietta Simionato provide her students with a link to the great Italian and German singing traditions of the golden age of opera. A longtime member of the National Association of Teachers of Singing, Ms. Ruggiero is without doubt one of the finest teachers of voice in Southern California."
– Nicolas Reveles
The Geisel Director of Education
and Outreach,
San Diego Opera
"It gives me great pleasure to be among the highly regarded people in the fields of music, voice, opera and musical theatre who are writing testimonials for Dramatic Mezzo-Soprano and voice teacher extraordinaire, Dianna Ruggiero. As the immediate past Director of the San Diego Metropolitan Opera Auditions, I have had the privilege of listening to Dianna's students for over eleven years. The first thing that attracted me to Dianna was the way she related to young singers. She understands their vocal needs and how to get them where they want to go. Unlike some voice teachers, Dianna refuses to let a young person sing something that might ruin their voice. She has studied with several of the finest teachers both in New York and in Italy and passes her knowledge on to her students. She is unique in her ability to work with all phases of vocal needs. Her students are currently singing in opera theatres locally and throughout the world. It is without hesitation that I recommend Dianna Ruggiero to anyone who seriously wants to study voice."
– Joan Henkelmann
Past Director, Metropolitan
Opera Association,
San Diego, CA
President, Music Merit
Competition, San Diego, CA
"Not only is Dianna a wonderful teacher who gives her students the proper technique to sing a variety of styles, she is also a mentor who has a successful performing career of her own and knows what it takes. She is caring, encouraging, funny and enthusiastic about what she does. I have been studying with her on and off for over 20 years and am still amazed at the improvements made under her guidance. She has been invaluable to me and my career."
– Sandy Campbell
Actors' Equity Singer, Actress
San Diego and Southern
California Theatres
San Diego Theatre
Critics Circle Award
Outstanding Female
Lead Performance
in a musical: "Parade"
Cygnet Theatre
"Look no further than Dianna Ruggiero for the most competent, thorough, generous and comforting voice teacher there is. Dianna has studied with some of the greats in the opera world such as Margaret Harshaw and Giulietta Simionato. She passes her extensive industry insights and vocal knowledge onto her students. Her technical ability to work with all Opera, Musical Theatre (Legitimate and Belt), Jazz and Pop voice types is astounding. Dianna makes her students feel at home, comfortable and not threatened in any manner so they are able to sing their best.
A stickler for the proper technique, her students leave her studio feeling refreshed and able to properly sing their selected material. They never feel weighted down. Her vast experience with phrasing a line will help take your arias and songs to the next level.
Being a performer herself, she understands the business. She understands what directors and producers are looking for and what is required to audition and to get hired. Her knowledge of all repertoire in Opera, Musical Theatre, Jazz and Pop helps guide her students to win auditions and perform on stage. Having taught so many students who are professional performers, Dianna comprehends what is essential within a character and will work entire roles technically into your voice. Her students are masterfully taught to bring all the drama, excitement, pathos, vocal quality, and stamina to their performances. Working these songs and roles technically into the voice, her students never lose their voices and have a reputation for dependability and reliability.
I have worked with Dianna for many years as a voice student and alongside her as a performer. I can say she is simply the best !"
– Ryan Lowe
Tenor and Countertenor,
Opera and Musical Theatre
Currently starring on
Broadway as
Mary Sunshine in "Chicago"
"It is difficult to be objective about Dianna Ruggiero when all that comes to mind is a chain of superlatives. Despite a substantial history of theater experience, I always considered myself to be a sufficient singer. Then, I encountered Dianna and her studio. The rest is a master class on the subject of performing miracles. She took my voice, reshaped it, deftly showed me how to perform selected material without risking injury to my vocal cords and gave me sage guidance on what to do with these newly developed skills. Her musical intuition is exceptional. She and I have dissected many of my piano/vocal arrangements and I trust her opinions.
As a teacher, she is one of those rare finds one can only dream about. Dianna is insightful, incredibly experienced and is the absolute for nurturing students into spectacular performers. Supportive, educated and wise, even the savviest of singer could walk away with a troika full of new vocal freedoms. The fact that she is one of the few voice therapy specialists in the country to whom the medical profession seeks her expertise in bringing vocal patients back to health after their own contribution is testimony enough to her proficiency.
On stage, she is at the top of her game. A passionate performer possessing laser-precise instincts, Dianna's ability to portray nearly any role comes from her capacity to be fearless. She is a consummate professional, generous collaborator, consistently prepared, dedicated, follows direction to the detail and ready to make staging adjustments on a moment's notice; traits any director yearns to see in his or her cast.
And then there is that voice. Hers is a voice that makes the soul both swoon and soar. Capable of delivering the most delicate of melodic lines or rattling the rafters of any stage, the music doesn't necessarily come from her, but rather comes through her. Jazz, Pop, Musical Theater and Opera are all her domain. Few can claim that skill without the goods to back it up. Back it up, she does and by the truckloads.
She is a timeless beauty, an influential leader, abundantly intelligent and generous with a raucous laugh. If you have the good fortune to perform, study or team with Dianna Ruggiero, you will walk away evolved for the better."
– J. Alex Tiscareno
Actor/Singer and
Internationally Renowned
Professional Composer/Arranger